Selling a home? Then don't let these 10 "honey dos" turn into buyer "honey don'ts"
As a Plano,TX Home Stager my job brings me into the homes of many sellers throughout North Texas for a pre list or post list "troubleshooting" home staging consultation.  In fact, my home staging consultations have increased significantly over this past year and have become a large part of what I do.  Not only are they cost effective, they help a home seller by identifying areas they can improve upon, update or re purpose that will give them a good return on their investment and in many cases actually saves them hundreds if not thousands of dollars!  A home staging consultation will also give a seller the "buyer's eye perspective" on how their house shows and what may be preventing some buyers from making an offer. 
Give your home buyers a house they DO want!
Whether the seller chooses to do all, some or none of the work is completely up to them (although they can hire Home Star Staging to do some of the work as well) but at least they will  be armed with the information they'll need to understand why their home isn't on the list to purchase of prospective buyers who see or have seen it.
Some of the easiest fixes for sellers are what I call the "honey dos"; those nagging odds and end jobs that we've always meant to get around to but just haven't made the time to.
These seller "honey dos" can easily turn into buyer's "honey don'ts" and by that I mean, "Honey, we don't want this house!".
Here's a list of 10 "Honey Dos" that sellers should consider when selling a home that should be taken care of before a buyer and their honey "don't" decide to make an offer.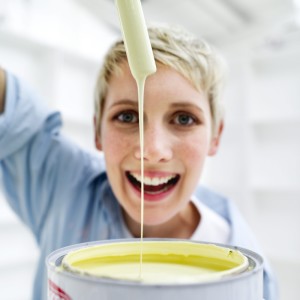 10 Seller Honey Dos to combat the Buyer Honey Don'ts:
Remove dated or taste specific wallpaper and paint bold or bright colored rooms a neutral buyer ready color..  As much as you like it or think it's a pain to remove, buyers in most cases don't like it or want to remove it either! "Honey Don't" like to remove wall paper. Also the 6 coats of paint it took for you to get that perfect shade of purple is a huge honey don't for buyers.  Especially if you have more than one room to paint. For a couple hundred bucks and a few weekends this is well worth the investment!
Update your cabinet hardware.  If you cannot afford to replace your kitchen cabinetry or counter-tops one of the easiest updates is to replace the cabinet hardware, the jewelry if you will.  Think about an old outfit you may have that comes back to life with a new piece of jewelry added to it.  Honey does like this!
Remove torn or solar window screens while selling and clean your windows.  Window screens that are torn need replacing however when selling I recommend taking down the screens, cleaning all the windows and leaving the screens in your garage. Especially when headed into the darker months of fall, letting lots of light in is important. Honey do like light!



Clean your house top to bottom both inside and out! On the interior clean baseboards to moldings, fans to light fixtures, switchplates to cabinet fronts, microwave to fridge. For the exterior from nests in the eaves, cobwebs in the corners, gutters filled with leaves and pressure washing drives and sidewalks, nothing says well cared for more than a sparkling clean house.  If you can't do it yourself, consider hiring a professional cleaning crew, it's worth it.
Keep your landscape in pristine condition.  Even if the home is vacant, make sure your lawn is being maintained on a regular basis.
Repair or replace door knobs and doors that stick and windows that won't open. Especially in Texas where foundation issues are a problem, these simple fixes could translate into a huge problem in a buyer's mind.  Often times it is just the normal swelling and drying associated with our weather. However, if you do note any cracks or problems in your home that could be foundation related, there's no sense in trying to hide it, it will be found out in an inspection and it's best to know up front rather than lose a contract over it.
Fix any leaky faucets, toilets or sinks. Plumbing repairs in the eyes of a buyer can get very expensive,if you're handy do the work yourself but if in doubt always call a professional.
Take care of any electrical outlets, switch-plates and covers that are broken or off color. If you burned out a socket, cracked a plate or have mis matched covers all over the house, to some buyers this translates to a lot of expensive electrical work to do.  New switch plates and covers cost pennies and update the look quickly.  I've also seen painted outlets that look great. (but make sure you safely cover the openings with cardboard or other non electrocuting material)
Get rid of, sell or donate everything you don't need. Now is the time to really get brutal on what you've always meant to get rid of but just didn't make the time.  From furniture to clothing clearing the clutter from your home will not only help you but your buyer's see what they're getting.
Do consider hiring a professional home stager for a home staging consultation.  If you need more help in preparing your home for sale a home staging consultation will cover so much more than a "honey do" checklist. Stagers are the first buyer's eyes you want to have in your home and will give you honest professional feedback that can help you sell your home.