Punch up your "Porch Appeal" – Help buyers fall in love at the door!
Curb appeal is so important when selling a house and there is a lot of information out there on the subject. As a professional home stager I also think it's equally important to address your front porch, whether you have a large one or a small one. Once out of the car and up the walk-way, buyers will spend some time waiting at this spot while their Realtor opens the lock-box and eventually the front door. Don't neglect to pay attention to your porch!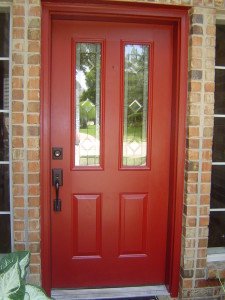 Here are some simple, inexpensive tips to punching up your porch appeal
Paint, stain or replace your front door if necessary.To me a front door on the house is like lipstick on a face.  Keep the color warm and inviting, not dull and peeling.
Replace the hardware if dull, pitted or outdated, including the kick plate if there is one (or leave it off completely).  Unless you have nice brass light fixtures that complement the hardware, opt for something more modern an updated over the "builder's standard brass".
Replace your porch light fixture (s) if it looks like it needs it.
Sweep, hose down or even pressure wash the area well. Get up in the eaves and get those mud daubers, spider webs and other insect evidence out of there!
Clean any sidelight windows or glass on your door.
Purchase a new door mat (one without your initials on it). I tend to like those black rubber ones that look like iron and they're usually made from recycled rubber.  But any nice or even seasonal mat will do.
Repaint or replace house numbers
Repaint or replace your mail box (if you have one there)
If your porch can withstand it, a new bench, rockers or seating is always a nice welcoming touch. I suggest adding seasonal pillows that coordinate with your home's color scheme to add another layer of texture and invites a buyer to sit a spell.
These simple and inexpensive ideas are sure to impress prospective home buyers. Don't overlook this aspect of curb appeal!