Paint it Sold!
One of the biggest bangs for your home selling buck is a new coat of paint to lighten and brighten up a room. No other update is as cost effective and dramatic when selling a home. While I personally love a color filled home while dwelling, for selling it often becomes one of the biggest objections however it's one of the easiest to overcome.
Whether you do it yourself or hire a professional, if painting is recommended by a home staging professional or your Realtor, it's best to do it before taking the photos and listing!
Here's a recent example of a home in the Castle Hills area of North Texas in the high $600 K price range whose staging to dwell to staging to sell transformation took it from a rather Gothic style "castle" to a castle intended for a King!
When staging to "dwell" color is great, but this was too dark and too personal a choice for most buyer's tastes in this traditional home buyer market.
The photo below is now Staged to SELL! ! Paint is often the biggest bang for your buck and gives a great ROI. Buyers often only know what they see and can't imagine the way it could be. (Book shelves were staged using staging prop inventory from Home Star Staging)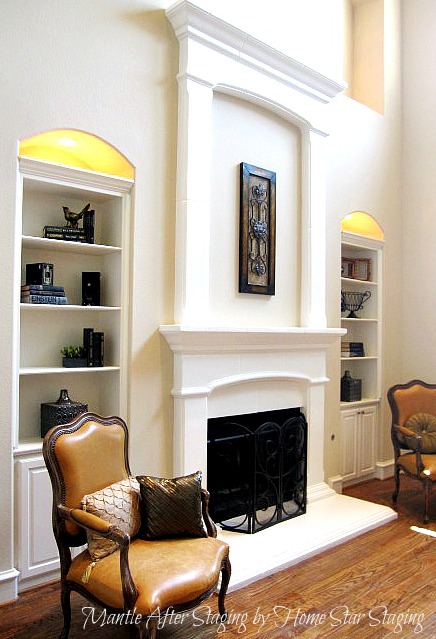 Don't take a wait and see approach for this easy fix!