Consultations
Every occupied property staging starts with a home staging consultation. If you're the do- it- yourself type but would like the experience and guidance from professional home stager on furniture and accessory arrangement, want to know which updates return their investment and what you can do to stage your property yourself, then a home staging consultation is the perfect choice for you! A professional home stager will arrive at your home and assess what is necessary to prepare your home for sale. Comprehensive exterior and interior recommendations will be made.
Verbal Home Staging Consultations  are an investment of $239 for up to 2 hours with a professional home stager. Clients are encouraged to take notes.
Room Therapy®.  Home Star Staging's Room Therapy is like our consultation and staging service rolled up into one package—a "Consulstaging®."  For $349 we'll spend the first 30-45 minutes assessing and prioritizing what needs to be done in each room and with the remainder of the two-hours, we'll stage as many rooms as possible using the homeowner's furnishings.  We'll provide guidance on any additional furnishings they may need and even provide a list of best places to find them.  They'll also get a show-ready checklist so you and your client will be prepared for each showing.
Written Home Staging Consultations are 15 cents per square foot. (Minimum sq. ftg billed 1,500) Access to the property is required however a professional home stager will write the report after gathering the information they need to assess your property for staging. A pdf document of the staging report will be sent to you and your Realtor (if requested) within 48 hours. Typically these reports are 10+ pages in length and provide you with the written blueprint you'll need to stage a home yourself.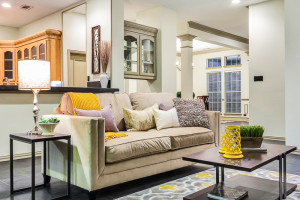 Contact Us
Ready to get started?
Latest Work
Real Estate Investors
Whether you're a professional real estate investor or just flip houses to earn extra income, let us show you how home staging can sell your homes faster and for more money.